Our Customers
I can't thank Cascadia Vans enough for their roof rack for my Promaster van. Their communication was excellent, all work went according to the schedule we established upon initial contact. Because we had an unusual van model, they measured, powder coated and secured the latest in hardware for the installation. We needed fittings for a Thule cargo box and it was fabricated specifically for our application. They even worked to be sure the newest hardware worked properly. It worked even better than we expected and we are on our way with the van.

Morry S.
Awesome!  Thanks for update and the quick turn around.  You guys rock!

Shaun Kelly - VanBase
If you are looking for quality work on your van then these are the guys to see. They installed a new side window, air conditioner and vent fan in our Mercedes Sprinter and the work was done very quickly and affordably. Communication was great throughout the process, no surprises and we would use their services again, We highly recommend Cascadia Vans!

Brenda & Wendell
Thanks again guys! We appreciate the quick turnaround!

What stands out is the direct communication and understanding on what exactly we were looking for in a rear passenger seat and you guys delivered. The mounting is solid and by a professional touch. You guys show a passion for the van community, and we appreciate the hard work involved.

We'll pass the word to our van friends!

Sean & Caitie
It was such an amazing experience to work with Cascadia Vans. I will highly recommend their service.

John S.
Simply the BEST in Seattle area

Robert B.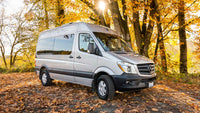 #cascadiavans
"You can park next to the bubbling brook but if your window is not open, you won't hear it"
 C.V. Van Dweller
Cascadia Vans Custom Products
Gallery
@cascadiavans
Born in the mist of great rain forests of the pacific northwest.