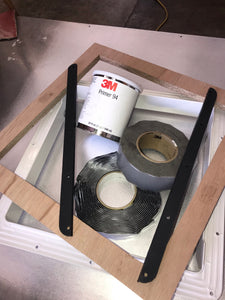 Kit includes:
Shims to keep fan vent flanges level on contoured sheetmetal.
Marine plywood for solid clamp frame inside the roof. 
Butyl sealing tape to pinch between sheetmetal, shims also between shims and fan vent flange.
3M UV stable sealing membrane to completely seal over the fan vent flange, screw heads overlapping onto the sheetmetal for decades of worry-free service.
3M adhesive primer to etch plastic and painted surfaces prior to applying 3M UV stable membrane.